We'd Like to Introduce You to Our New Look
---
In an effort to make learning easier, we are transitioning to a New Look. This new interface has started with the most popular PRYOR+ pages. Following, you can review the changes we've made and experience the New Look inside PRYOR+ for yourself. Any feedback can be directed here:
Online Feedback Form.
As always, thank you for learning with us. New Look, Same Great Training As a user, you now have access to a new PRYOR+ design. When you log into your account, there is an option to try this New Look in the upper right-hand corner of the interface.



Once selected, you'll then be taken to the new search page. This page might look a little different, but has the same capabilities as the current search with a few additions as well. If at any point you'd like to return to the previous version, you'll find a "Return to Classic View" under the dropdown menu beside your username.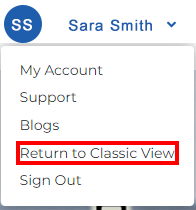 Live Online Seminars If your account offers a live online seminar option, you now have the ability to quickly toggle between Live Online Seminars and OnDemand courses. As you will notice, we have removed the cumbersome navigation menu, but have no fear you can still access your registered and attended virtual seminars via the toggle options above the word CATALOG. Filtering functions can be found on the left-hand side of the interface as well as below the word CATALOG.

OnDemand Courses The OnDemand course tab has a toggle feature to quickly flip between catalog, registered, in progress and completed. Similar filtering functions are available along the left-hand side of the interface, as well as along the top of your results under the word CATALOG.

Transition Plan As we continue to transition all webpages to this new design, you'll find that some of the Administrative pages are in the Classic View.